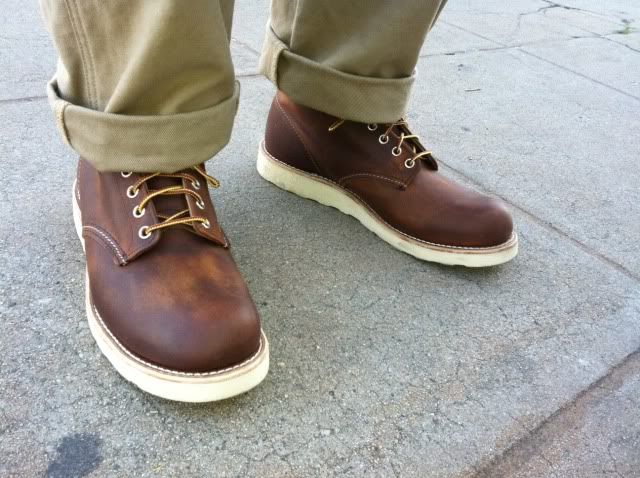 Many of you are familiar with Chrome-excel leather from Chicago's Horween tannery. Chromexcel is a chrome tan, veg. re-tan, hot stuffed leather. The oils and waxes embedded in the leather move around when the leather is flexed, giving the hide beautiful highlights and lo-lights. This color changing quality is called "pull-up".... (You'll often see craftsman stretch leather swatches over their thumb to see the color change). In the eyes of patina hunters, pull-up leather is sought after for the explosion of texture you get as soon as you start wearing your boots. For outdoorsmen, the oiled hides are well regarded for their water resistance, and durability.
Red Wing's most handsome pull-up leather is their Copper Rough & Tough, as seen in our newest model: The 9111. A round toe boot built on the same #8 last as the Gentleman Traveler. They find a cozy niche between the stiffer 8'' moc toe syles and the lower chukka's. The Copper leather is rusty, medium brown with a nice waxy feel, and yes..... great pull-up.
Head Barber, Jason at Baxter Finley next door got the first pair.... We'll check in on his in a few weeks as they wear. Plenty more in stock, ready for new homes.