Finally found a buyer for my kidney so once the cooler was dropped off in Little Odessa, I took my cash and went straight to 7161 Beverly to turn it into horsehide. The jacket is striking. Love the two tone and the D pocket. Definitely an attention getter. Wore it to the bar last night and got atleast ten compliments on it...... Some of them even from women! The front quarter horsehide is stiff when new, but not terribly heavy, and with a light cotton lining (deadstock hbt plaid, ofcourse), its very wearable in L.A.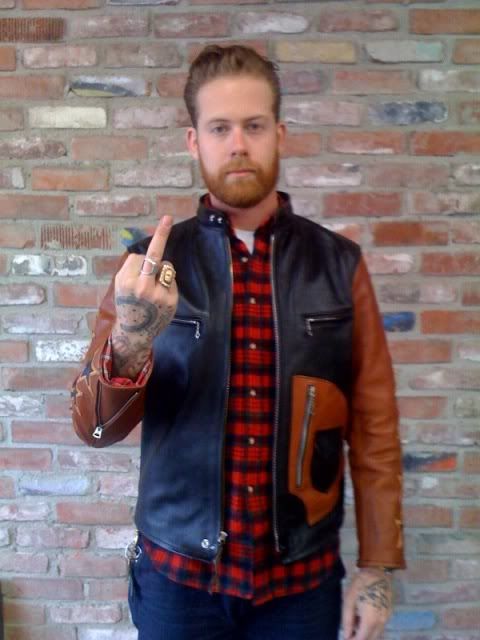 I'm 6'2'' and 185 lbs (of pure muscle), and I took a size 42. I'm thrilled that this jacket is plenty long enough for me; a problem I often have with cafe racer style jackets. The 42 fits correctly snug with a good warm shirt underneath, but still fits clean and close with only a t-shirt under. I'd imagine once its a few weeks old, it'll be just a hair stretched out as well.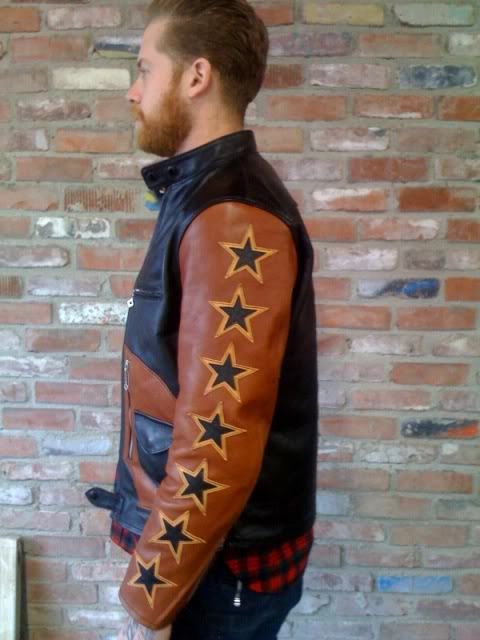 Yeah, thats right, I got the fucking stars on the sleeves. You're all haters. The stars make it go faster anyway.... didn't you know that??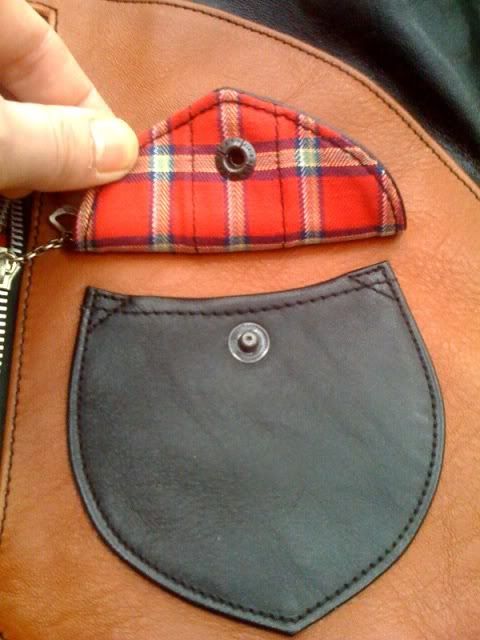 Good shots that represent the colors of leather, and the red plaid lining (not pink...ahem.... red)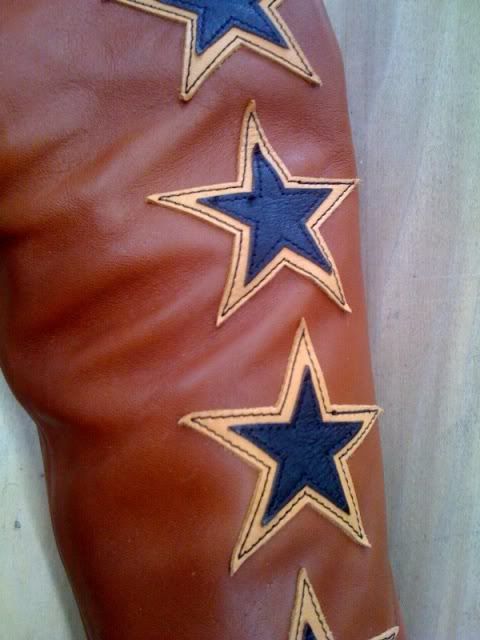 The horsehide is aniline dyed, as it was back in the 40's-60's. This is a surface dying treatment, that will crackle and fade overtime. It will reveal the fleshy colored inner part of the leather in the areas of abrasion and wear. These areas will also darken down once oiled, as the pores of the leather have been opened up from the abuse. I also like how the stars are sewn in with a slight allowance outside of the stitch lines. The corners will start to curl and age quickly. Keeps them more on the rugged side.... not too tidy.
Double snap collar closure.
The main zipper is a genuine Hookless fastener. The base of which is riveted into the hem of the jacket. These can be a little tricky to operate at first. The trick is to make sure the male end is all the way into the female end before you start to pull up on the zipper-pull. Once you've done it three times, and know to feel for the second little *click* as it slides in place, its not any different from any other zipper for functionality.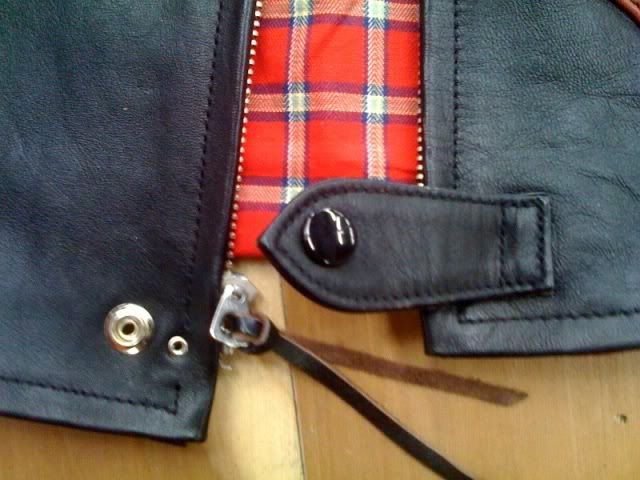 Button tab at the hem. Covers the base of the Hookless when buttoned shut. The leather zipper pull illustrates the aniline dying well.... Notice how the black color is only surface deep.